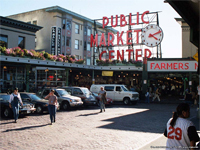 Project Highlight
Pike Place Market, Seattle, WA -
HOT ISSUES
The 2010 Standards for Accessible Design, effective 3/15/12, have some new scoping provisions that can impact your multiunit housing projects.
Projects with HUD Section 504 or other public funding require 5% of units be accessible with mobility features. These are generally more stringent than "Code Type A" units. Additionally, 2% of units need to have Communiction Features. Funding programs that trigger this are not well documented or defined - be conservative.
Among the significant new Regulations is "Housing at a Place of Education" for housing operated by or for the benefit of educational institutions. This can have a large design impact, as it is much more stringent and requires greater quantities of accessible units than the typical IBC / ANSI A117.1 Type A units.
There are many implications of these changes that E&A can assist you with.
Please Contact us for more information on how the 2010 ADA Standards will affect your public accommodation and public sector projects and facilities.
Montage Beverly Hills
E&A performed Accessibility Design Reviews of this luxurious Hotel & Condominium facility. The building includes 201 guestrooms, including 55 suites and 20 wholly owned Montage Residences. There are extensive restaurant, spa, meeting space, and other amenities.
Read more...
Welcome to Endelman & Associates
Endelman & Associates PLLC (E&A), a consulting firm founded by William E. Endelman, AIA, is a rather unique firm of Architects (licensed in WA, CA, AZ, NV, and NCARB certificated) specializing in accessibility consulting, ADA compliance, and Fair Housing Act compliance. Our focus is on problem solving in to meet accessibility standards, to include the ADA, the Fair Housing Act "safe harbors", the International Building Codes, the Uniform Federal Accessibility Standard, Architectural Barriers Act, Universal Design and other Codes. E&A has served over 700 clients, most of whom are ongoing clients. Using best practices learned from experience and computer technologies, our clients receive high value solutions from the following Consulting Services:
Our Consulting Services
ADA Consulting including Building Code Accessibility Compliance and Universal Design - Helping Owners and Architects make their "public accommodation" facilities legally ADA compliant and accessible, and public entities to attain program accessibility. We do ADA Inspections to help you meet ADA Regulations.
Fair Housing Act Consulting - All multiunit residential apartment and condominium buildings of 4 or more units built for first occupancy after March 13, 1991 must comply with the Fair Housing Amendments Act of 1988. Services include plan reviews, FHA Surveys, Accessibiity construction observation, and due diligence surveys.
Expert Witness Services and Litigation Consulting - E&A is an FHA Expert and ADA expert, providing expert witness services for Defendants, Plaintiffs, and enforcing agencies.
Training on Practical ADA & FHA Compliance for architects, contractors, developers & public entities.
California CASp inspection services.
Endelman & Associates PLLC (a Professional Limited Liability Company) is dedicated to the highest levels of customer value. In addition to having the requisite expertise, we are responsive and support our clients. We listen and solve problems.