ADA Services
Our Services include: ADA Surveys, ADA Accessibility Design Reviews (Plan Reviews), ADA Construction Observation, ADA Litigation Consulting / Expert Witness Services, ADA Training, ADA Consulting.
Survey Solutions™ Software
E&A's completely new generation of ADA database software, Survey Solutions™ and Survey Manager™ (licensable to clients) is running in the "cloud"  It is a web based application that provides greater capabilities for our firm and our clients.
E&A has developed and used for years custom database software.  Survey Solutions benefits our clients with better. consistent content and itemized budget costs, provided more cost effectively. Our ADA Survey Reports have written solutions and budget costs for each it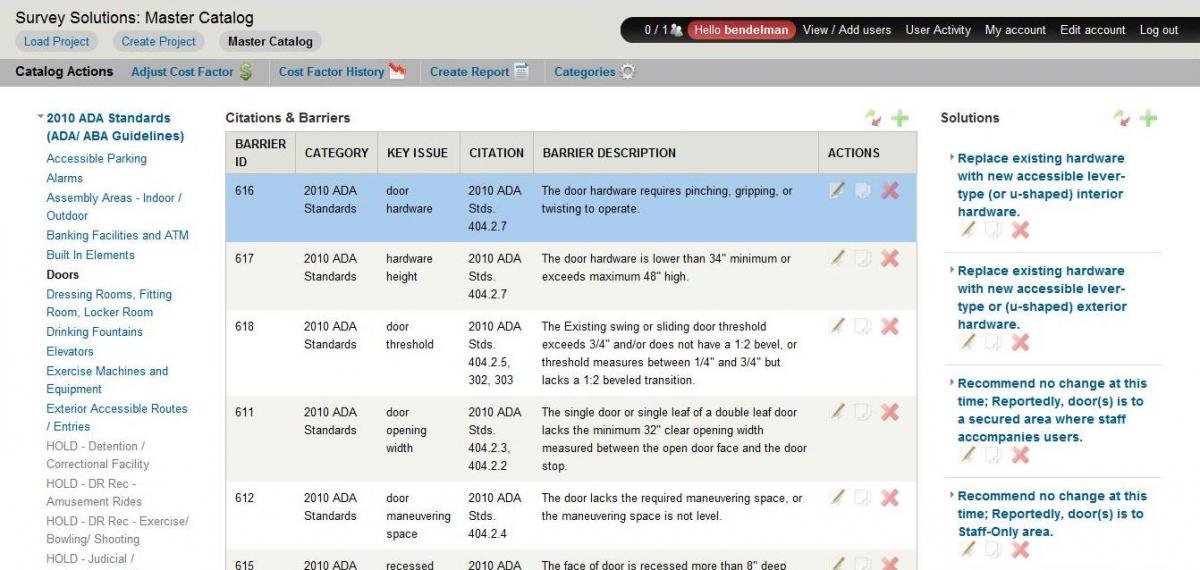 em. Data is also available to our clients in electronic database formats. We can also manage the entire implementation and tracking of your barrier removal project using our database software.
Our ADA Survey Reports have written solutions that are considered sufficiently complete, that with provision of some design standards and good Project Management they can often be the scope for a contractor's bid. (Some more complex solutions and public sector projects will require design and construction documents, which we can provide.) Our surveys are performed by Architects who know buildings and accessibility standards.
Client Benefit - Direct  Access to Survey Solutions™ Software - Our clients can license use of our custom web application with all our survey data, that enables clients to add status fields to track progress of their barrier removal program and print a myriad of reports. The software is a module of our ADA Survey Software, Survey SolutionsTM.
A Quality ADA Accessibility Survey should include:
ADA Overview / Executive Summary explaining ADA requirements and your Survey.
General Priority per the Preamble to the ADA
Barrier, Location and ADAAG/ Code Citation.
Photos of typical or unique barrier (color copies).
Recommended Solution
Key Plan drawing as appropriate
Clarification Codes and Comments for each Recommendation.
Written Facility Summaries.
Budget Cost per item.
Capability for ongoing database management
Survey Solutions Software Benefits 
The benefit to our clients of using custom Survey Solutions Software™ database is our ability to do ADA Surveys of any size of project that provide;
Surveys more cost effectively.
A more thorough, consistent and quality controlled report.
Cost Summary and Custom Reports of data in client-driven formats.
Electronic data files in compatible database formats.
Itemized barrier removal scope of work for architects or contractors.
Client option of licensing access to our custom ADA Project Management / Report Writer System that is part of Survey™
For an idea of how our Survey Solutions Software works, please see a sample survey report page it generates. We are also currently developing our software for other facility survey applications.